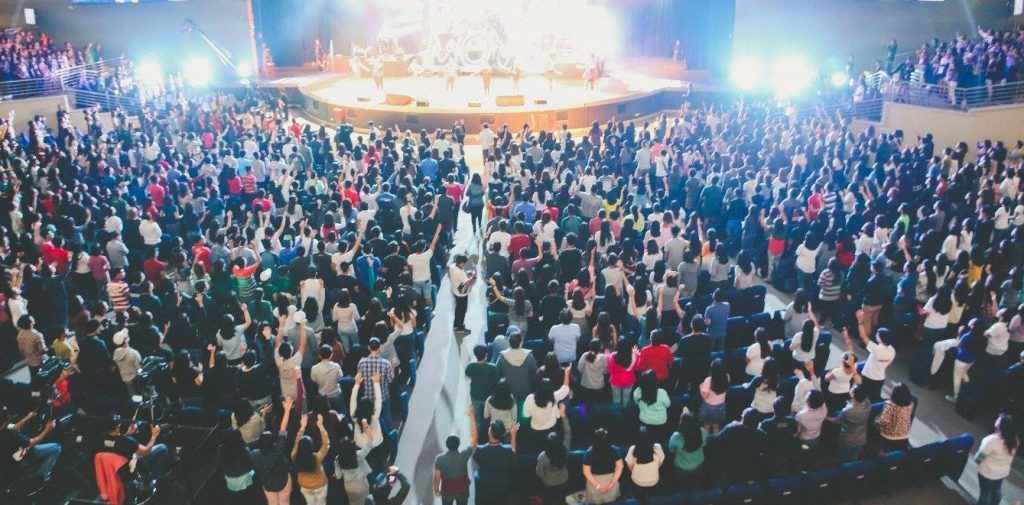 #MoveMemories
A Recap on MOVE YDC 2018
Written by Edel Alcantara
September 24, 2021
"Don't let anyone look down on you because you are young, but set an example for the believers in speech, in conduct, in love, in faith and in purity." – 1 Timothy 4:12 (NIV)
The MOVE Youth Discipleship Conference aims to empower the youth to passionately move with Jesus and make a lasting impact in the world! Before the COVID-19 pandemic, the MOVE conference is a face-to-face event that happens every other year. International speakers come to the Philippines and discuss Biblical truths that will motivate and impact the youth on living for Jesus. MOVE YDC 2020 was supposed to push through yet it was postponed to 2021 due to COVID-19. This year, MOVE YDC 2021 will be held online wherein international speakers will still teach and remind us of the importance of making a stand! Mark your calendars on October 28-30, 2021 and purchase your tickets here.
we long to be loved because we are designed to be loved
As we anticipate and await MOVE YDC 2021, let us take a look back on what God has taught us during MOVE YDC 2018. If you were not able to attend last 2018, do not worry! We got you covered! We will have a brief recap of what it was all about. You may also watch the plenaries on YouTube.
MOVE YDC 2018 had a special theme for the year which was called "Set Apart." As the theme suggests, the conference was all about how we can be "set apart" for God. What does that mean, though? We are meant to be distinct as followers of God and our all is devoted to Him. In fact, holiness in the Bible means to be "set apart" or fully pure. Praise God that we can live in righteousness and purity! We cannot live a life pleasing to God by ourselves. Instead, as followers of Christ, we live lives dependent on God always.
God knows best and He wants the best for us, too.
Session One was about holiness and intimacy with God. Before we lead others, we should learn to lead ourselves first in pursuit of holiness. The speaker was Pastor Bong Saquing of Christ's Commission Fellowship (CCF). He started by enumerating the benefits of becoming a follower of Christ and showing the common issues the Filipino youth is facing currently. These problems include a large number of out-of-school youth, exposure to pornography, and the rise of teenage pregnancy cases. Indeed, many are lost in this day and age. Pastor Bong also mentioned that we long to be loved because we are designed to be loved. He soon defined holiness and shared his main point which is "Be AHA tight with the Holy God." AHA is an acronym he created for (1) awakening, (2) humility, and (3) action. He reminds us that we should be humble enough to repent and to obey God so that we can experience life with Him to the full!
The second session was held by Dr. Sean McDowell, an author and professor at Biola University. He discussed how we can stay strong as we stand for the truth and pursue holiness. He talked about how Daniel decided to follow the Lord and not defile Himself (Daniel chapter 1). Are we like Daniel who made that decision to follow Him and live purely no matter the circumstances? Once we've decided by God's grace, He will give us the strength and knowledge to make a change as followers of Christ. Although there will be innumerable challenges along the way, we can trust that God is always there and we can hold on tight to Him. When we encounter pressure, challenges, or questions, we can always decide not to defile ourselves and wholeheartedly live for God!
The third session talked about holiness leading to worship. Pastor Peter Tan-Chi, the senior pastor of CCF, shared that we cannot find God if we do not even search Him in the first place. He also emphasized that God is way bigger than our problems. Who shall we fear? God is in control of everything! He has no equal and He is indeed HOLY, HOLY, HOLY (Isaiah 6:3 and Revelation 4:8). God's glory will always remain. Unlike us, people, whose glory is temporal or passing. As a Holy God, He possesses Holy love which is genuine. God knows best and He wants the best for us, too. When we choose to surrender and give our lives to Jesus, we become holy (or set apart for Jesus) and our lives will be honoring to God. Do we allow God to use or send us?
Christians should be known for love and not debates.
One of the most unique and interesting sessions was the fourth session wherein Dr. Sean McDowell acted as if he was an atheist speaker. The audience can ask the "atheist" guest speaker anything, and many of the questions were regarding atheism and Christianity. Dr. Sean McDowell, during the session, presented various atheistic defenses such as scientific theories. After the act, the speaker turned back to his true Christian- speaker- self and started to remind everyone that Christians should be known for love and not debates. Also, God reminds the audience through the session that we should be ready for a defense just in case someone asks. Ultimately, followers of Christ are called to love one another just as Jesus loves us.
 The fifth session is about forgiveness which is a touchy topic for many. Dr. Sean McDowell shared that, although forgiving others is difficult, our motivation to forgive others is how Jesus forgave us completely. He did not take our sins against us anymore. Because Jesus has forgiven us, we have the capability to forgive others. It is true that "hurt people hurt people." In this broken world, followers of Christ can be the salt and light by forgiving one another. The world pays attention when His followers forgive. Forgiving is not forgetting, but we do not hold a grudge any longer when we forgive. If we are in a place where we think that Jesus cannot forgive us because of the sins we have done, let us remember "Rescue 119" or 1 John 1:9 that when "we confess our sins, He is just to forgive us and cleanse us from all unrighteousness." No matter what situation we are, God can redeem us! Praise God!
"Will you make that decision to completely be devoted to God?"
The sixth session focuses on the "cause" specifically in the context of the campus. Indeed, the youth is the future. Pastor Carlo Panlilio, the senior pastor of Destiny Church Manila, spoke about the David and Goliath story as an example and inspiration for fighting for the campus. Campus ministry trains us for the future, in adulthood and professional life. David devoted his life to taking care of the sheep prior to killing Goliath. He said that he knew he can fight the Philistines because he had protected his father's sheep when a lion or a bear came after them. David argued that if he can kill an animal, he can also kill the Philistine he was about to face. Today, the campus ministry can be a training ground for the youth to become stronger servants of God. The truth is we need people who are devoted to living life with a purpose and advocacy. As followers of Christ, we can bring about change through devotion and taking action.
Lastly, the seventh session was about holiness leading to perseverance. Pastor Marty Ocaya, ELEVATE Director, reminded us that we are easily distracted while we choose to follow God. He encouraged the audience to "persevere and keep moving!" We should be intimate with the Lord to have that desire to live for Jesus. In serving God through ministry, obedience, and leading small groups, we choose to persevere as God commanded. Soon, the time will come when God will reward those who love and serve Him. All of us also experience tough times and brokenness. Praise God that, just like a glow stick, we shine our light in our times of brokenness! Do not give up!
God is always here for us. The question is, "Will you make that decision to completely be devoted to God?" Remember that Jesus provides life to the full and He loves us most. Why not choose to worship and serve such a great God?